Since our first haunt tour in 2004 the Midwest Haunters Convention has spotlighted many of the best haunts in the Midwest. We are very excited to announce the 2017 MHC Pre-Convention Haunted House Bus Tour line-up!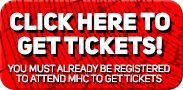 The 2017 MHC 2-Day Pre-Convention Haunted House Bus Tour (June 7 & 8) marks the first time MHC has toured Kentucky haunts! The Tour is $295 and it includes the following:
Admission to 9 locations, with a total of 10 attractions. Two attractions with lights-on tours, 8 attractions will be dark and staffed with performers.
Charter bus transportation with games & prizes
Snacks and beverages on the bus
Wednesday evening bonfire with snacks & beverages at Grim Trails
Limited to just 4 buses, don't wait, this trip will sell out fast
PLEASE NOTE: The tour price DOES NOT include overnight hotel accommodations; you'll need to reserve your own room(s) at the Southern Indiana Horseshoe Casino Hotel (about $79 for room, resort fee & taxes) Wednesday night. You can sleep up to 4 guests per room, with 2 queen size beds in a spacious deluxe room. Includes a free breakfast buffet Thursday morning.
Luggage Storage For 2-Day Bus Tour (Hyatt Hotel Guests ONLY)*For $10 a bag, Hyatt Hotel guests may to take their bags to Champaign for luggage storage overnight. Champaign is located on the second floor, just above the food court, second room on the right in County Foyer, across from the bathrooms. The room will be staffed from 6:30am – 9am on Wednesday; and 11pm-1am on Thursday night. If you need access outside of those hours, please go to the Bell desk in the lobby. The Hyatt will make arrangements for these charges to be billed to your guest room.
Haunts on the tour include:
Day 1 of the Pre-Convention Bus Tour would not be complete without a stop at The Devils Attic!Don't miss out and BOOK NOW!http://www.midwesthauntersconvention.com/pre-convention-bus-tour/

Posted by Midwest Haunters Convention on Tuesday, April 11, 2017
WEDNESDAY, JUNE 7
THURSDAY, JUNE 8
Wicked World Scaregrounds (Lexington, KY), a Lexington favorite offering 10 years of fear with two fantastic attractions; Nightmare Haunted House and Quarantine.
The Mayhem Mansion (Morning View, KY), this morbid-looking manor is one of the most hair-raising haunts in Kentucky! Please note this is a Touch Haunt
Face Your Fears Hotel of Terror (Springfield, OH), tour this dilapidated hotel and experience bone-chilling scares!
Trip does not include all meals, but we have scheduled stops with lots of options for your dining:
Both days we have scheduled lunch stops at locations with a cluster of fast food and quick service dining options.  We'll park the buses and you'll walk to your choice of a restaurant.
Wednesday, we'll be at the Southern Indiana Horseshoe Casino Hotel during dinner time and they have seven restaurants on site to choose from.
Thursday, we'll stop at Jungle Jim's and they have 6 restaurants and TONS of international and unique foods; including over 15,000 labels of wines and 4,000 different beers and a state liquor store. Crackers and cheese work for dinner too, right?
You are welcome to bring a cooler on the bus with your own beverages and meals/snacks for the trip.
Southern Indiana Horseshoe Casino Hotel – Newly renovated  Hotel and Casino, offering 7 restaurants plus Slots,
Poker, Video Poker, Table Games, and Gaming.
Rate Includes:
Complimentary Aroma Buffet Breakfast

Complimentary WiFi

Complimentary Valet Parking
Single King Room – nonsmoking room is $65.00.  Book now click here!
Double Queen Room – nonsmoking is $75.00.  Book now click here!
Or call to book at 866-766-2671 and use the group code L06MIDW.
1,014 total views, 3 views today