Masters of Fear is an all-in-one place to find out what's happening in Haunt and Horror, and we're passionate about delivering a quality audience to our advertisers!
Now in our 5th year as part of the Haunt community, we've listed more than 10k posts and are now averaging over 1-5+ posts per week. That depth of coverage has helped build a devoted fan base that continues to grow.
Why advertise with us?
We are Haunt Fans and Owners – We spend everyday following the best Attractions, News and Events to be able to post great content to fans.
Flexibility – We offer a wide variety of advertising options, ranging from homepage photo sponsorship opportunities, to banner ads, giveaways promoted on Facebook & Twitter, event listing upgrades, mobile ads, newsletter sponsorship and more. These tools allow us to create custom campaigns for your business based on your goals and your budget.
Reasonable pricing – We take pride in being a low-overhead business; your advertising budget won't be wasted on nonsense like middle-management, bureaucracy, egos or impressing shareholders. In fact, campaigns can start as low as $40/mo.
It's where today's audience is – Digital ad spending is by far the fastest growing of the media types in the US: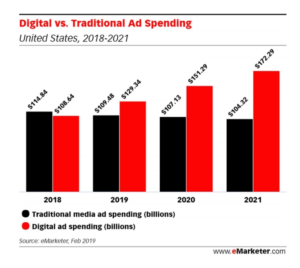 source: TechCrunch
We'd love to help grow your business or organization! Please contact us with questions or for a pricing quote at: [email protected] or FILL OUT OUR FORM.