6 Night Summer Monster Bash – Party in the Woods @ Scream Hollow
Summer Monster Bash – Party In The Woods @ Scream Hollow June 12, 13, 19, 20, 26 & 27.
Summer Monster Bash – Party In The Woods @ Scream Hollow June 12, 13, 19, 20, 26 & 27.
SUMMER MONSTER BASH IN THE WOODS! EXPERIENCE 4 HAUNTED ATTRACTIONS IN A UNIQUE EVENT UNLIKE ANY OTHER! FEATURING LIVE MUSIC, BEER, WINE, AND MUCH MORE!
149 Split Rail Lane
Smithville, TX 78957
SCREAM HOLLOW AND COVID-19 PRECAUTIONS
We know you have been cooped up and stressed with all things coronavirus these past two months! All of us at Scream Hollow have been as well. We feel we need our Summer Monster Bash more than ever this year so as restrictions ease up you have a summer party to get out and celebrate!

Scream Hollow has such a unique layout and style, we feel like our summer event is providing a much needed breath of fresh air (with a scare!)

For everyone's safety and comfort we want to share what we are doing:

1. Most of our venue is outdoors with lots of open space across over 20 acres of forest.

2. All food and drink establishments on property already serve to-go for our outdoor dining areas and our beer garden. This gives us an advantage of natural social distancing. The spacing of everything is already on point with picnic tables spread out across the eating areas.

3. With our 4 haunted attractions we keep group sizes to 6 or less which also accommodates natural social distancing.

4. We will be spacing out our queue lines so that all guests feel comfortable.

5. For those who want to keep social distancing from our actors, we will be selling special orange glow necklaces at the castle ticket booth and the gift shop for $1.00. If you are wearing one of our orange glow necklaces actors will not come within 6 feet of you in the haunted attractions. If you see someone wearing an orange glow necklace, please respect their space while in the queue lines and common areas on property.

6. We are stepping up our sanitation and cleaning efforts to comply with CDC recommendations in the common areas.

Scream Hallow
---
12 ft Giant-Sized Inferno Pumpkin Skeleton from Home Depot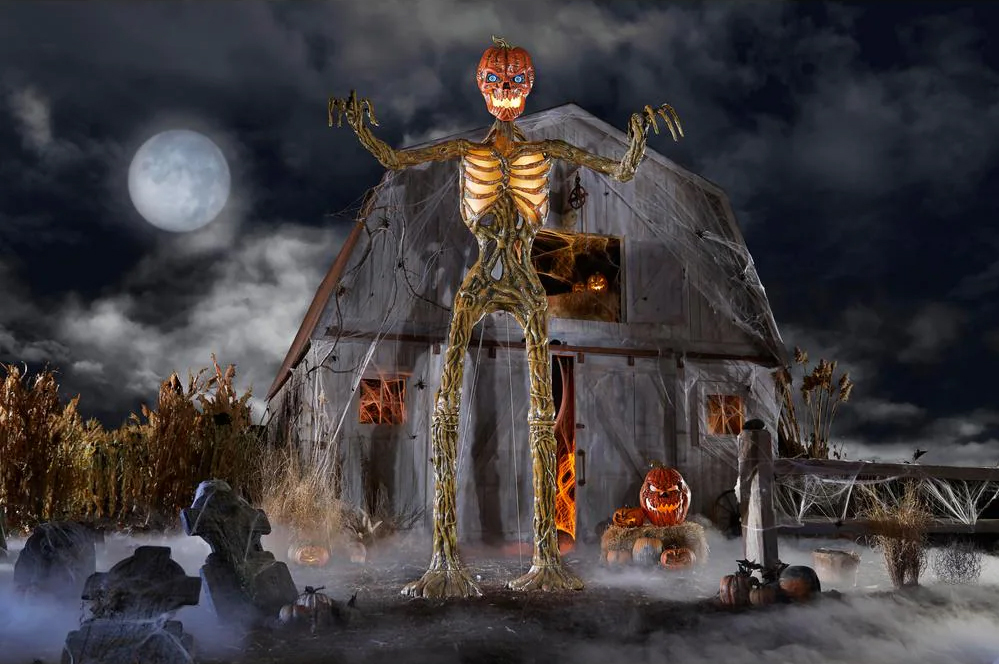 Summon souls to your ghostly gatherings with this Pumpkin Skeleton. An imposing 12-foot height makes your lawn the talk of the neighborhood, and the LCD glowing eyes stare at those passing by. Poseable arms let you create playful or scary setups to welcome trick-or-treaters to your treacherous retreat. Included ground stakes hold this spooky specter securely in place on your lawn. This Pumpkin Skeleton uses adapter power to illuminate his fiery chest and piercing eyes.
The 12 ft Giant-Sized Skeleton from Home Depot is BACK!!!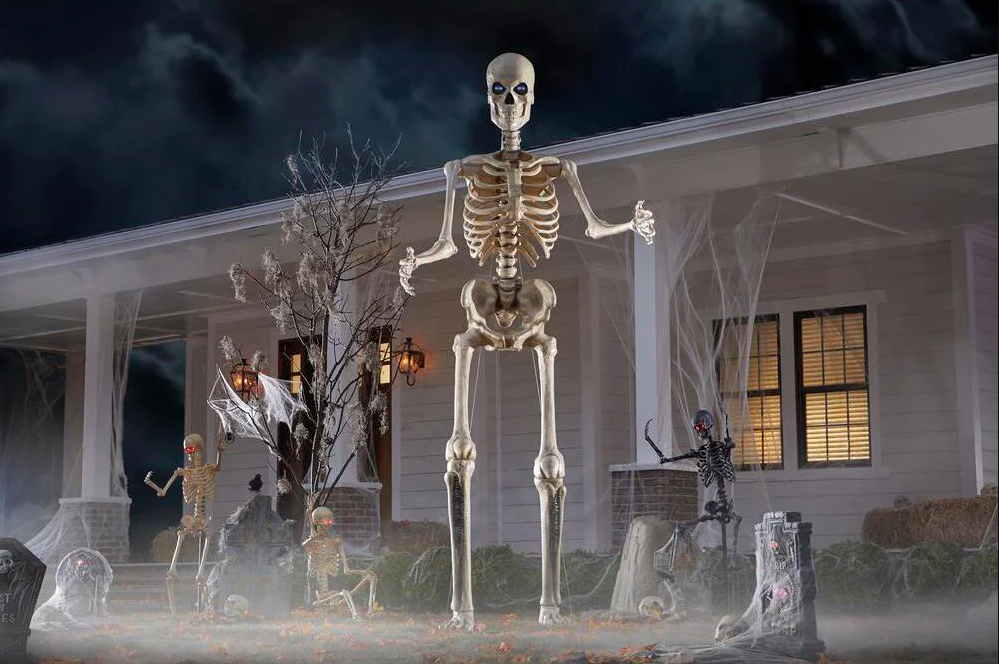 This Giant-Sized Skeleton is the statement piece for your Halloween scene. LCD realistic eyes appear to move and blink as it activates. Comes with durable metal frame and ground stakes for stability. Timer function: 6-hours on/18-hours off.
How To Open Your Haunt – Post Pandemic
Have questions on opening up this year?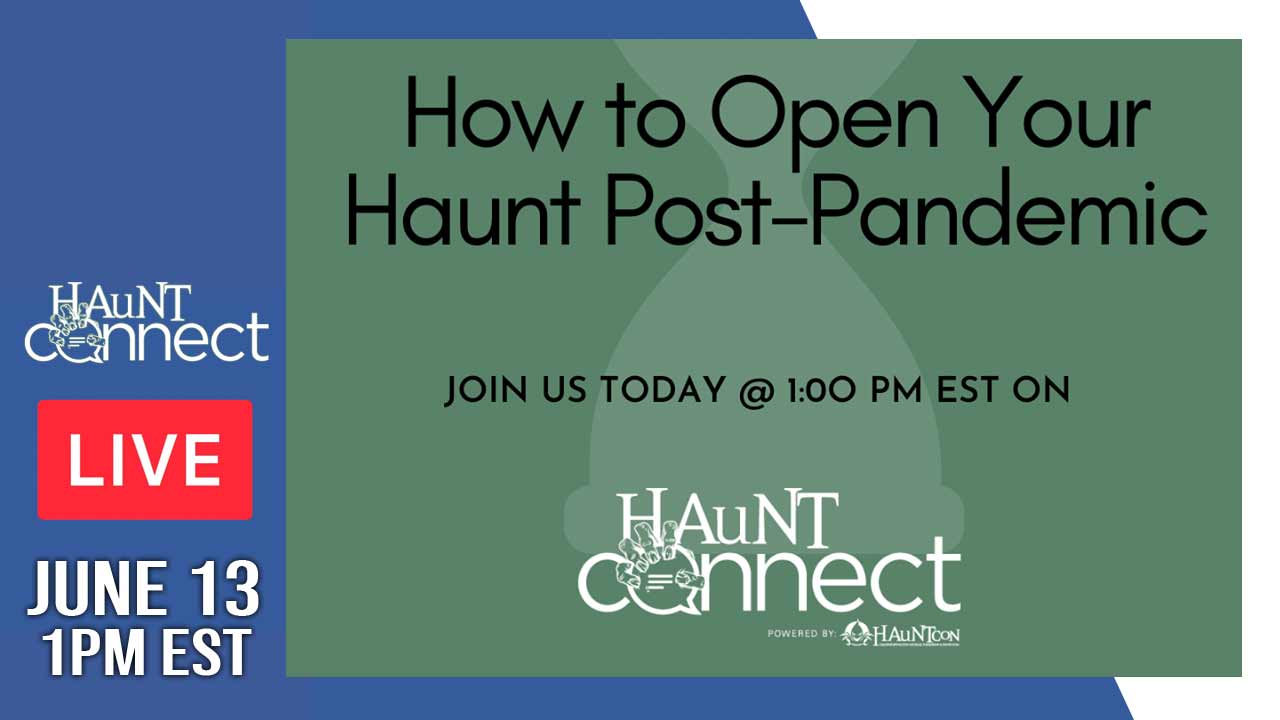 Have questions on opening up this year?
Check out this HAUNTconnect Session with Spencer Terry & Scott Swensen Saturday June 13th at 1pm EST.
Now's your chance to listen to someone who's already done it and SOLD OUT!

HauntCon
Don't miss Saturdays #HAuNTConnect Session with Spencer Terry of Fear Factory SLC and Scott Swenson of Scott Swenson Creative Development LLC at 1:00 PM EST!

HauntCon
Follow this link to make your FREE HAuNT Connect profile and bring your questions to be answered —> https://bit.ly/hauntconnect20 #HAuNTcon21